Every season, there is a different 'nature study' course. This fall, the 'theme character' was 'Totoro' from one of the kids' favorite animated movies, 'Tonari no Totoro' (Our Neighbor, Totoro). The kids carried clipboards with answer sheets, magnifying glasses, etc., and looked for the 'Totoro' signs, (see upper right) that indicated questions to be answered (see lower right).
After turning in their answer sheets and getting scored, they get to go to the handicraft corner and create keychains, stick figures, etc., out of materials gathered from the forest. Below, Brian holds a stick figure he crafted out of acorns and twigs.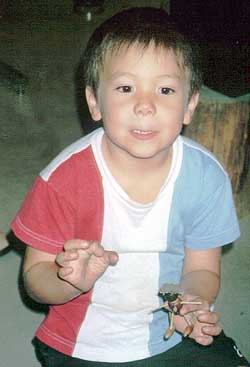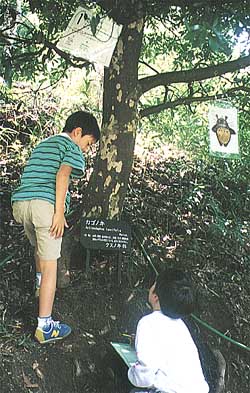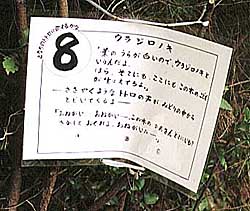 This huge slice of a sequoia was donated by the state of California. It stands about 6 meters high and about 8 meters wide. The display case in front of it explains the type of tree it came from, how old the tree was, and how it was cut down. But it doesn't answer one critical question. How in the heck did they get this monster slice of wood up the narrow, twisting, tree-overhung mountain road that is the only method of access to the arboretum?